Órgiva
/
Cañar
/
Soportujar
/
Carataunas
/
Pampaneira
/
Trevélez
/
Bubión
/
Capileira
/
La Tahá
/
Pórtugos
/
Busquistar
/
Almegíjar
/
Cástaras
/
Torvizcon
/
Juviles
/
Timar
/
Lobras
/
Bérchules
/
Cádiar y Narila
/
Golco y Montenegro
/
Mecina-Bombarón
/
Yegen
/
Válor
/
Mecina Alfahar
/
Ugíjar
/
Cherin
/
Nevada
Lanjarón ( 4.000 Habitantes Altitud: 658 m. Distancia a 49 km. de Granada capital ) En la localidad de Lanjarón se encuentra una fábrica embotelladora de aguas minerales, la primera en su género en España. Así como un balneario donde se puede disfrutar de las propiedades medicinales de estas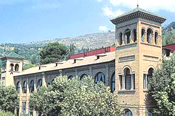 aguas. Bonitas vistas del paisaje y tambien del castillo del siglo 16°. Durante la rebelión de los moriscos de Las Alpujarras, tuvo que venir a sofocar Fernando el Católico personalmente los levantamientos de Lanjarón debido a la ferocidad de sus defensores.
Lanjarón ( 4000 Inhabitants Altitude: 658 m. Distance to the capital of Granada is 49 km. ) In Lanjarón the first factory was founded for botteling mineral water in Spain. Lanjarón is famous for its spa where one can enjoy the medicinal properties of these waters. There are marvellous views of the surrounding landscape and ruins of the castle dating from the 16th century. During the uprising of the Arabs in the Alpujarras, the catholic king Ferdinand personally commanded the battle of Lanjarón which led to the defeat of the brave Moorish defenders.
Ayuntamiento / Town Council: 958 770 002 lanjaron@dipgra.es Balneario / Spa baths: 958 771 070 Información turística: 958 770 282 Autobuses Alsina Graells: 958 770 003 Taxi: 958 770 057 Policia local: 958 770 002 Guardia civil: 958 770 005 Centro de salud / Medical aid centre: 958 770 281 Mercado en viernes / Market on Friday
Órgiva ( 5.147 Habitantes Altitud: 460 m. ) Durante el periodo nazarí y después de la conquista de Granada ha sido la capital de la tahá de Orgiva que fue cedida a los hijos de Muley Hacén y de Isabel de Solís y más tarde a Boabdil, último rey de Granada. En 1.488 es cedida a don Gonzalo Fernández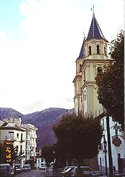 de Córdoba y Válor, El gran capitán, por su lealtad. Por disposición de la Reina Isabel II este villa es capital de comarca Alpujarra granadina desde 1.839.
Órgiva ( 5147 Inhabitants Altitude: 460 m. ) During the nazarí period and after the conquest of Granada it has been the capital of the tahá of Orgiva and was governed by the children of Muley Hacén and Isabel de Soli's and later to Boabdil, the very last king of Granada. In 1488 Fernandez of Cordova y Válor, a famous captain, was given the command of Órgiva for his given loyalty. Queen Isabel II initiated Órgiva to be the capital of the Alpujarra granadina region from 1839 to this day.
Ayuntamiento / Town Council: 958 785 212 orgiva@dipgra.es Autobuses Alsina Graells: 958 785 002 Taxi: 958 785 228 Policia local: 958 785 212 Guardia civil: 958 785 203 Centro de salud / Medical aid centre: 958 785 245 Seguridad Social / Social Security centre: 958 785 400 Mercado en jueves / Market on Thursday
Cañar ( 345 Habitantes Altitud: 1.014 m. ) goza de la características esencial que define la imagenes de los pueblos alpujarreños. La arquitectura singular perfectamente adaptadas a lo quebrado del terreno y a la climatología de la zona. Se ordenan en estrechas calles donde perdura la memoria de su pasado morisco.
Cañar ( 345 Inhabitants Altitude: 1014 m. ) enjoys the essential characteristic that defines the imagery of alpujarreño towns. The singularity of its architecture, perfectly adapted to the particulars of the land and the regional climate. The narrow streets reminds us of its Moorish past.
Ayuntamiento / Town Council: 958 785 301 canar@dipgra.es
Mercado en miercoles / Market on Wednesday
Soportujar ( 288 Habitantes Altitud: 940 m. ) nace como núcleo urbano a partir de una alquería que en el siglo 13° dependía de la tahá de Órgiva. Como toda la comarca, tuvo especial protagonismo en la sublevación de Abén Humeya en el siglo 16° y pagó las consecuencias con su despoblamiento. Felipe II entregó el lugar a 27 familias traídas de otras regiones y desde entonces ha conservado el carácter típico de la zona. Er es un mirador excelllente de cara al Valle de Lecrín.
Soportujar ( 288 Inhabitantes Altitude: 940 m. )is born from a farmhouse to an urban nucleus that depended on tahá of Órgiva in the 13th century. During the revolt of Abén Humeya in the 16th century the village paid for the consequence. Under ordening of King Felipe II the hamlet received 27 families from other regions which has conserved the typical character of the area. It has wonderful views on the valley of Lecrín.
Ayuntamiento / Town Council: 958 787 531 soportujar@dipgra.es
Carataunas ( 203 Habitantes Altitud: 800 m. ) se trata del municipio más pequeño de la comarca.
Carataunas ( 203 Inhabitantes Altitude: 800 m. ) is one of the smallest municipalities of the valley.
Ayuntamiento / Town Council: 958 787 520 / 958 784 420 carataunas@dipgra.es
Pampaneira ( 340 Habitantes Altitud: 1.058 m.) y otros pueblos del Barranco de Poqueira existen talleres de artesanía textil donde se fabrican alfombras, mantas, cortinas. Es uno de los pueblos más típicos de la Alpujarra alta. El iglesia gótico de Santa Cruz tiene un techo de madera de estilo mudéjar.
Pampaneira ( 340 Inhabitants Altitude: 1058 m.) and other towns of the ravine of Poqueira textile craft shops manufacture carpets, blankets, curtains. It is one of the more typical towns of the higher Alpujarra. The Gothic church of the Holy Cross, has a Mudéjar style wooden ceiling.
Ayuntamiento / Town Council: 958 763 001 pampaneira@dipgra.es Taxi: 958 763 002
Mercado en lunes / Market on Monday
Trevélez ( 800 Habitantes Altitud: 1.476 m Distancia a 97 km. de Granada capital ) La apicultura es una actividad importantes en la Sierra Nevada y concretamente en Las Alpujarras. En Trevelez pueden degustar sus famosos y excelentes jamones. Su clima seco y frío es ideal para la producción del jamón serrano. Es el pueblo mas alto de toda España. Trevélez ha guardado la fisonomía de época musulmana con su división en tres barrios: alto, medio y bajo. Los árabes llamaban a este lugar Trebelex, el origen de este nombre parece ser anterior y podría derivarse de la palabra latina Vélex, que viene a significar valle, haciendo referencia a los del río Grande, Chico y Trevélez. También merece mencionarse una leyenda popular que señala que el origen del nombre podría proceder de tres hermanos apellidados Vélez, Tres-Vélez; que habrían sido los primeros pobladores de la villa, y cuyas casas, separadas entre sí, habrían dado lugar respectivamente a cada uno de los tres barrios del municipio. Apareció en Trevélez una inscripción atribuida a los mozárabes, considerada como la más antigua, fechada hacia mitad del siglo 9°. En el período nazarí perteneció al distrito de Juviles dependía junto con los lugares de Cástaras, Tímar, Lobras, Cádiar, Narila, Bérchules, Mecina Bombarón, Golco, Yátor, Yégen y Válor. Contaba con una mezquita mayor y dos rábitas. Según los cronistas del 16° siglo en ella se obtenían muy buenas cosechas de trigo y cebada.
Trevélez ( 800 Inhabitants Altitude: 1476 m. Distance to the capital of Granada is 97 km. ) Bee-keeping is an activity of great interest in the Sierra Nevada, espescially in the Alpujarras. In the town of Trevélez one will taste the famous hams of excellence. Its cold and dry climate is ideal for the curing of the ham.The town is highest situated in the whole of Spain. Trevélez knows three districts: the high, the average and the lower district. Although the village was named Trebelex during the arabian period, the origin of its name could derive from the Latin word Vélex, meaning valley, making reference to the rivers Grande, Chico and Trevélez. A popular legend has it that the origin of the name could come from three brothers with the name Vélez, thus Tres-Vélez, who were the first settlers and whose houses would have given meaning to the three districts of the municipality. There is an inscription in Trevélez attributed to the mozárabes, dated towards half of the 9th century. In the nazarí period Trevélez belonged to the district of Juviles on which it depended, along with Cástaras, Tímar, Lobras, Cádiar, Narila, Bérchules, Mecina Bombarón, Golco, Yátor, Yégen and Válor. the district had a mosque of importance and two rábitas. According to the cronicles from the 16th century the region obtained very good harvests of wheat and barley.
Ayuntamiento / Town Council: 958 858 501 trevelez@dipgra.es Taxi: 958 85 8 546 Guardia civil: 958 858 502
Mercado en miercoles / Market on Wednesday
Bubión ( 370 Habitantes Altitud: 1.300 m. ) que posee una larga tradición de artesanía. Bonitas vistas panorámicas sobre el barranco. Tal vez el origen de Bubión sea latino. En cualquier caso es preislámico. Ha formado parte de la tahá de Poqueira desde el siglo 13°.
Bubión ( 370 Inhabitants Altitude: 1300 m. ) possesses a long tradition of crafts workmanship. Pretty views pans on the ravine. The origin of the name of the village is latin, in any case pre-Islamic. It was part of the tahá of Poqueira from the 13th century.
Ayuntamiento / Town Council: 958 763 032 bubion@dipgra.es Taxi: 958 763 148
Capileira ( 580 Habitantes Altitud: 1.436 m. ) El más alto de los tres pueblos que conforman el Barranco de Poqueira. El tienen un Parroquia mudéjar y un museo Alpujarreño de Artes. En verano se puede alcanzar la cumbre del Veleta a pie. Subiendo al Parador Nacional y siguiendo un camino sin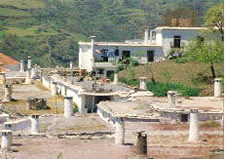 asfaltar el visitante llega hasta el municipio de Capileira. Por el camino, los amantes de la naturaleza se habrán acercado a las cimas más altas de la Península Ibérica, el Mulhacén (3.481 m.) y el Veleta (3.392 m.). En cuyas inmediaciones se suceden numerosas lagunas glaciares que impiden el desarrollo de la vegetación arbórea. La cabra montés es la especie más característica de estas cumbres nevadas, mientras que los tejones, garduñas y gatos monteses son especies propias de las zonas más bajas. Asimismo, en estas formaciones rocosas destaca el águila real, el acentor alpino, el buitre leonado o la perdiz común. No está muy claro si su origen es romano o de época más tardía.
Capileira ( 580 Inhabitants Altitude: 1436 m. ) is the highest of the three towns that conform the Ravine of Poqueira. It has a mudéjar parish and there is a museum of Alpujarreño Arts. In summer the summit of the Veleta can be reached on foot. Nature lovers will find the highest tops of the Iberian Peninsula, the Mulhacén (3481 m.) and the Veleta (3392 m.). Mountain goats are the most characteristic species on these heights, while badgers, stone martens and mouintain cats are species living in the lowest zones. Among the rocky formations are the real eagle, the tawny vulture or the common partridge. It is not very clear if its origin is Roman or of earlier times.
Ayuntamiento / Town Council: 958 763 051 capileira@dipgra.es Taxi: 958 763 125 Guardia Civil: 958 763 052
Mercado en sabado / Market on Saturday
La Tahá ( 790 Habitantes Altitud: 1.295 m. ) de Pitres que comprende los núcleos siguientes: Mecina Fondales, Ferreirola, Pitres, Capilerilla y Atalbéitar. Nos podemos asomar al profundo barranco excavado por el río desde el Puente de Mecina Fondales. En Ferreirola estan baños termales de Panjuila.
La Tahá ( 790 Habitantes Altitud: 1295 m. ) of Pitres includes the villages Mecina Fondales, Ferreirola, Pitres, Capilerilla and Atalbéitar. A deep precipice excavated by the river can be seen from the Bridge of Mecina Fondales. In Ferreirola are thermal baths of Panjuila.
Ayuntamiento / Town Council: 958 766 061 lataha@dipgra.es
Mercado en viernes / Market on Friday
Pórtugos ( 430 Habitantes Altitud: 1.303 m. ) que da origen al nombre del pueblo es latino. Pórtugos proviene de la palabra latina "Portus", indicando un lugar de paso. En la época nazarí Pórtugos perteneció a una división administrativa mayor denominada tahá de Ferreira, en la que se engloban diversos núcleos de población entre ellos Pórtugos y un anejo del mismo denominado Lauxar o Laújar. Tras la expulsión de los moriscos en 1.572 Pórtugos fue repoblado con 72 familias christianos; 12 en Lauxar y 60 en Pórtugos.
Pórtugos ( 430 Inhabitants Altitude: 1303 m. ) origin of its name is latin. Pórtugos comes from the Latin word portus indicating a site for passing through. during the Nazarí time Pórtugos belonged to a greater administrative region tahá de Ferreira which was next to the administration of Lauxar or Laújar. After the expulsion of the moriscos in 1572 Pórtugos was repopulated with 72 christian families; 12 in Lauxar and 60 in Pórtugos.
Ayuntamiento / Town Council: 958 766 001 portugos@dipgra.es
Mercado en martes / Market on Tuesday
Busquistar ( 349 Habitantes Altitud: 1.100 m. ) Entre los siglos 13° al 15° perteneció a la tahá de Ferreira e indirectamente a Granada. Ya en el siglo 19° pasa de depender del juristicción de Albuñol al de Orgiva. Busquístar estuvo formado por varios caseríos y una gran cantidad de cortijos todos ellos bastante poblados. Sus minas de hierro estuvieron en explotación hasta 1.975.
Busquistar ( 349 Inhabitants Altitude: 1100 m. ) Between the 13th and 15th century the village belonged indirectly to tahá of Ferreira and to Granada. In the 19th century it became part of the jurisdiction of Albuñol and ruling of the town Orgiva. Busquístar was formed by several small villages. Their iron mines were in operation until 1975.
Ayuntamiento / Town Council: 958 766 031 busquistar@dipgra.es
Mercado en martes / Market on Teusday
Almegíjar ( 396 Habitantes Altitud: 812 m. ) Almegíjar tiene el grave handicap de haber quedado fuera de las dos carreteras importantes que cruzan Las Alpujarras de este a oeste. No obstante, ese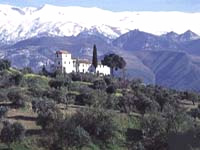 mismo aislamiento ha favorecido que el pueblo permanezca tranquilo y ajeno al paso del tiempo, lo que, sorprender, se ha convertido en uno de sus principales atractivos. No fue así en otros tiempos, cuando los moriscos cultivaban la seda en esta zona y Almegíjar gozaba de riqueza. La expulsión de los moriscos significó su casi total despoblamiento hasta que la población fue renovada con campesinos procedentes de Galicia, León, Asturias y Castilla. Hoy día, el vino parece ser una de actividades economica mayores.
Almegíjar ( 396 Inhabitants Altitude: 812 m. ) Almegíjar is located in an isolated part of the valley and, surprisingly, its very quiet character has become one of its main attractiveness. that was different when the arabs cultivated silk and Almegíjar enjoyed plenty of wealth. After he expulsion of the moors the population was renewed with farmers from Galicia, Leon, Asturias and Castile. Nowadays, wine is the main economic actitivity.
Ayuntamiento / Town council: 958 764031 almegijar@dipgra.es
Cástaras y Nieles ( 273 Habitantes Altitud: 1.011 m. ) Alunas kilómetros separan Cástaras de aldea Niéles. El existen ruinas de unas minas, donde se transformaba el mineral y una chimenea donde se condensaba el mercurio.
Cástaras and Nieles ( 273 Inhabitants Altitude: 1011 m. ) A few kilometres separate Cástaras from its sister hamlet Niéles. There are ruins of mines and a chimney where mercury was to be condensed.
Ayuntamiento / Town Council: 958 855 533 castaras@dipgra.es
Torvizcon ( 922 Habitantes Altitud: 684 m. ) y sus orígenes se remontan a la época del imperio Romano con el nombre de Turidianum. Después, con los musulmanes, desarrolló notablemente su capacidad de producción agrícola gracias a novedosos sistemas de riego y a la existencia de numerosos pozos, razón ésta por la que es citada en algunas crónicas del siglo16°. Producía entonces seda de buena calidad y cultivaba viñedos para exportar pasas. Con la conquista cristiana, y sobre todo tras la sublevación y posterior expulsión de los moriscos, sufrió un importante despoblamiento. En el siglo 19° agrupaba una gran cantidad de cortijos. Ahora turismo rural además de producir ricos caldos somos actividades economicas importantes.
Torvizcon ( 922 Inabitants Altitude: 684 m. ) origins go back to the period of the Roman empire, when it was named Turidianum. During the arab period it remarkably developed to agricultural production thanks to novel systems of irrigation and to volumnious production, mentioned in some chronicles from the 16th century, of good quality silk and cultivating vineyards to export raisins. With the conquest by the christians the town suffered loss of sufficient dwellers. Well into the 19th century the town became sufficiently populated again. Rural tourism and produce of rich broths are some main economical activities these days.
Ayuntamiento / Town Council: 958 764 001 torvizcon@dipgra.es
Mercado en dia 1 y 16 / Market on 1st and 16th
Juviles ( 190 Habitantes Altitud: 1.255 m. ) fue construida en el siglo 8° aunque parece que su origen pudo ser anterior. Esta sitio tuvo una gran importancia durante la Edad Media por el lugar estratégico que ocupaba sirviendo de refugio a las poblaciones vecinas. Fue conquistada por Aberramán III en el 913. Durante la rebelión de los moriscos del año 1.500 Fernando el Católico la reconquistó y la destruyó para evitar nuevas rebeliones. Entre los siglos 12° al 16° fue cabeza de la tahá de Juviles que englobaba 12 lugares y 23 anejos. En 1.572 fue repoblado con cristianos venidos de Castilla. La iglesia de Santa María de Gracia es una de las más bonitas de la Alpujarra granadina.
Juviles ( 190 Inhabitants Altitude: 1255 m. ) came about in the 8th century or somewhat earlier. During the Middle Ages it served as a refuge for nearby settlements. In 913 it was conquered by Aberramán III. During the rebellion in 1500, King Ferdinand the Catholic reconquered it and he destroyed the town. Between the 12th and the 16th century it was the main village of tahá of Juviles, that included 12 dwellings and 23 associated farms. In 1572 it was repopulated with Christians from Castile. The church of the Holy Mary of Grace is one of the prettiest of Alpujarra granadina.
Ayuntamiento / Town Council: 958 753 032 juviles@dipgra.es

Timar ( 35 Habitantes Altitud: 1.025 m. ) o timen en latín significando 'el temido', es un pequeño pueblo de la provincia de Granada en corazón de la Alpujarra granadina y cuyos orígenes a la época romana.
Timar ( 35 Inhabitants Altitude: 1025 m. ) or timen in Latin meaning 'timid', is one of the smaller sized towns in the province of Granada in the heart of Alpujarra granadina. Its origins go back to the roman period.
Lobras ( 148 Habitantes Altitud: 930 m. ) origen posiblemente sea mozárabe. En el pasado exploitadó mercurio. Actualmente las mines son cerrado.
Lobras ( 148 Inhabitants Altitude: 930 m. ) origin is possibly mozárabe. Mercury has been exploited but the mines have been closed.
Ayuntamiento / Town Council: 958 768 107 lobras@dipgra.es
Bérchules ( 785 Habitantes Altitud: 1.319 m. ) origen sea mozárabe. Su naciemento probablemente tuvo lugar entre los siglos 8° y 9° . Posteriormente se fueron agregando alquerías independientes. El barrio bajo de Bérchules conserva aún el nombre de una de estas alquerías, Aynalcútar.
Bérchules ( 785 Inhabitants Altitude: 1319 m. ) origin is mozárabe. The town came about between the 8th and 9th century. Independent farmhouses came about later in time. The district under Bérchules still conserves the name of one of these farmhouses, Aynalcútar.
Ayuntamiento / Town Council: 958 769 001 / 958 753 001 berchules@dipgra.es Taxi: 958 753 061 Guardia civil: 958 753 002 Mercado en dia 2 y 22 / Market on 2nd and 22nd
Cádiar y Narila ( 1.560 Habitantes Altitud: 919 m. Distancia a 100 km. de Granada capital ) población de origen sea beréber. Fue cuna de don Fernando el Zaguer, tío de Abén Humeya que protagonizó e instigó el levantamiento de Las Alpujarras y funccion para cuartel general en este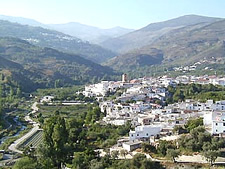 ocasion. Cádiar recibió el título de Villa en el siglo 15°. En esta época estuvo dividida la ciudad en cinco barrios con mezquitas, tiendas y zocos. Actualmente se ha el centro económicso y empresarial de la comarca.
Cádiar y Narila ( 1560 Inhabitants Altitude: 919 m. Distance to the capital of Granada is 100 km. ) original population were berbers. It was the birthplace of Don Fernando the Zaguer, uncle of Abén Humeya, who'm later commanded the uprise of the Alpujarras. Cádiar served as headquarters during the revolt of the Arabs against the christians. It received the title of municipality in the 15th century. In this period the village had five districts with several mosques, warehouses and public squares. These days it is an important economic centre in the valley.
Ayuntamiento / Town Council: 958 768 031 / 958 750 031 cadiar@dipgra.es Autobuses Alsina Graells: 958 768 006 Taxi: 958 750 02
Policia local: 958 750 031 Guardia civil: 958 750 066 Ambulancias: 958 750 790 Mercado en dia 3 y 18 / Market on 3rd and 18th
Golco y Montenegro ( 30 Habitantes Altitud: 800 m. ) La presencia de restos de fortificaciones que recuerdan el tortuoso pasado. Entre ellos cabe mencionar el Castillejo de El Golco . En Montenegro abundan las cuevas, con leyendas de tesoros escondidos por los moriscos. Entre los personajes históricos hay que recordar a Abén Aboo , primo de Abén Humeya , a quien traicionó para sucederle en el trono, convirtiéndose desde entonces en el último jefe de la rebelión morisca en La Alpujarra. Parece ser que el cortijo de Montenegro fue propiedad de este Rey.
Golco and Montenegro ( 30 Inhabitants Altitude: 800 m. ) The ruins of fortifications remembers us of turbulant historic periods. In Montenegro, nearby to Golco, are quite some caves. Legend speaks of treasures hidden there by the moorish. Abén Aboo betrayed his cousin Abén Humeya inorder to command the rebellion in 1571. The cortijo of Montenegro was property of Abén Aboo.
Ayuntamiento / Town Council: 958 851 001
Mecina-Bombarón ( 380 Habitantes Altitud: 1250 m. ) es un pueblo cual la mayoría de los habitantes todavía se ganan la vida con la agricultura. Es uno de los pocos pueblos alpujarreños de alta montaña mas grande. Estaba dividido en ocho barrios, cada uno de ellos con mezquita propia y depósito de granos durante el periodico árabes. Un puente romano sobre el río Mecina, a la salida de la este del pueblo. Alpujarra de la Sierra
Mecina-Bombarón ( 380 Inhabitants Altitude: 1250 m. ) has agriculture as its most important livelihood. It is one of the larger alpujarreño towns in the higher mountain areas. It was divided in eight districts, each one of them with its own mosque and grain deposit during the Arab period. An antique roman bridge is stiil intact over the river Mecina, on the east side of the town.
Ayuntamiento / Town Council: 958 851 001 Mercado en dia 2 y 17 / Market on 2nd and 17th
Yégen ( 545 Habitantes Altitud: 1110 m. ) estaba formado por dos barrios y que se mantiene actualmente. Bonito panorama existen en la valle desde el pueblo. Aquí vivió el hispanista inglés Gerald Brenan en los años veinte de siglo antes. Alpujarra de la Sierra
Yégen ( 545 Inhabitants Altitude: 1110 m. ) was formed by two districts which still exist today. There are pretty panorama views over the valley seen from the village. The English hispanicist Gerald Brenan lived here for some twelfe years during the twenties in the last century.
Ayuntamiento / Town Council: 958 851 001 Mercado en dia 6 y 21 / Market on 6th and 21st
Válor y Nechite ( 1.000 Habitantes Altitud: 909 m. ) El nombre Válor proviene de su topónimo árabe 'ballur', atendiendo al cristal de la roca que los árabes consideraban piedra preciosa. Tambien que situan el origen de Válor con anterioridad al período árabe, se la relaciona con la palabra latina 'Vall' o valor. Perteneció a la tahá nazarí de Juviles desde el siglo siglo 14° y estuvo formado por 10 barrios divididos en dos zonas, el barrio alto y el barrio bajo. Estuvo incluida en la tahá nazarí de Uxixar. Durante la dominación musulmana y la revuelta de los moriscos de 1.568 protagonizó Válor

hechos memorables como la coronación de Abén Humeya. Después de la expulsión de los moriscos fue repoblada con cristianos de provincia de Jaén. El personaje más relevante de la historia de Válor es Don Fernando de Córdoba y Válor. Después de la Reconquista se prohibió a los árabes usar sus ropas, la celebración de sus fiestas o ir a sus baños. Don Fernando de Córdoba y Válor fue coronado rey de Las Alpujarras y adoptó el nombre de Aben Humeya. Actualmente el origen árabe de Válor se sigue viendo reflejado en el escudo heráldico de pueblo en el que aparecen dos cimitarras árabes cruzadas y sobre ellas una media luna. La Iglesia de San José estructuran en estilo mudéjar.
Válor and Nechite ( 1000 Inhabitants Altitude: 909 m. ) The name Válor derives from the arabic word 'ballur' meaning the taking care of the crystal of the rock which arabs consider precious stone. There is also an idea that the origin of the name Válor is prior to the arabian period. It could be related to the latin word 'vall' meaning worth of value. Válor belonged to the Nazarí tahá of Juviles in the 14th century and was formed by ten districts divided in two zones and became later part of the tahá nazarí of Uxixar. During the moorish rebellion in 1568 Abén Humeya was ceremonialy installed as leader in Válor. The town was repopulated with Christian citizens of the province of Jaén after the uprising. The most well known historical person in the history of Válor is Don Fernando of Cordova and Válor. After the christian conquest of the Alpujarras, the Arabs were prohibited to dress in their traditional clothing, celebrate their ceremonies nor their ways of bathing. Don Fernando of Cordova and Válor was crowned King of the Alpujarras and adopted the name of Aben Humeya. The Arabic origin of Válor was continued seeing reflected in the heráldic shield the town has: two Arab scimitars or round broad swords appear crossed with a half moon at the top. The Municipality at present consists of Válor, Nechite, and Mecina Alfahar. The church of San José is built in mudéjar style.
Ayuntamiento / Town Council: 958 851 812 valor@dipgra.es
Mercado en dia 4 y 19 / Market on 4th and 19th
Mecina Alfahar ( 192 Habitantes Altitude: 901 m. ) Restos arqueológicos de un castillo desde siglo 10° árabes se encuentra situado entre las poblaciones de Válor y Mecina Alfahar. De esta fortaleza ha llegado hasta nuestros días los restos de una muralla.
Mecina Alfahar ( 192 Inhabitants: Altitud: 901 m. ) Archaeological remains of a wall of an Arabic castle from the 10th century is located between Válor and Mecina Alfahar.
Ayuntamiento / Town Council: 958 851 812 valor@dipgra.es
Ugíjar ( 2500 Habitantes Altitud: 559 m. Distancia a 120 km. de Granada capital ) Durante la época nazarí fue capital de la tahá de Uxixar además de la sede administrativa sobre las poblaciones de las Alpujarras. En tiempos de los moriscos poseía una floreciente industria de tejidos ricos y variados. Recibió el título de ciudad en 1493 cuando Boabdil era señor de la Alpujarra. Ugíjar está situada en la parte central de la Alpujarra, comarca de la parte oriental de Andalucia, entre las provincias de Granada y Almeria, a una altitud de 560 m. sobre el nivel del mar, en un amplio valle del rio Grande o de Adra. Ya en el siglo I a.d.c., el griego Estrabón, el Historiador y geógrafo importante de la época romana ( 63 AC - 21 DC ) , habla de una ciudad fundada por Ulises, el héroe griego protagonista de la la fantástica Odisea, a la que habría dado por nombre Ulyssea, en la que se levantaba un templo dedicado a Atenea, en cuyos muros Ulises, en uno de sus viajes, habría dejado como ex votos sus escudos y los espolones de sus naves. Hay una excelente razón para que Ulises dejara allí recuerdo de su paso, las arenas del rio son ricas en Oro. También Homero ( considerado el autor de dos de las obras más importantes de la Literatura Universal: la Iliada, tiene 24 cantos y unos 15.000 versos mientras y la Odisea, se queda en unos 10.000 versos mientras. Ahora se empieza a adjudicar a Homero la autoría de algunas obras arcaicas como La Tebaida o los Epígonos.) en la Odisea, cita una ciudad próxima a Adra, al otro lado de las montañas. En las capitulaciones de Santa Fe, pasó a formar parte del feudo de Boabdil; recibió la remodelación administrativa de mediados y tarde durante del siglo 18°. Las Alpujarras perteneció a la provincia de Granada hasta 1.833 y hecha la nueva división territorial entro a formar parte de aquella y de la provincia de Almería. Hoy los pueblos que a él corresponden, pertenecen a los partidos judiciales de Albuñol, Orgiva y Ugíjar, de Granada y a los de Berja y Canjáyar, de Almería. Ugíjar tiene el título de ciudad concedido en el primero de Mayo de 1.894 por la Reina Maria Cristina De Asburgo-Lorena y tambien el ayuntamiento tratamiento de Ilustrísimo.
Ugíjar ( 2500 Inhabitants Altitude: 559 m. Distance to the capital of Granada is 120 km. ) was the capital of tahá of Uxixar during the nazarí period and was the centre of administration for the whole of the Alpujarras. During this moorish period there was a flourishing weaving industry. Ugíjar is located in the central part of the Alpujarras. Already in the first century AC the Greek writer Estrabón, the important historian and geographer of the Roman period ( 63 BC - 21 AC ), speaks of a city founded by Ulysses, the Greek hero protagonist of the fantastic odyssey around the Mediterranean sea, who'm gave present Ugíjar the name Ulyssea. A temple was erected there dedicated to the Athenian rose. Homerus ( considered the author of two of the most important works of Universal Literature: the Iliada, containing 24 songs and about 15,000 verses and the Odyssey, having about 10.000 verses. Today there are adjudgements that Homero could also be the author of some archaic works like the Tebaida or the Epígonos.) makes mentionings in his writings of a city, close to the sea port of Adra, where sand of the river banks are littered with little nuggets of gold. In the capitulational decrees of Santa Fe by the christian conquerors on the Arab peoples, the administration of the Alpujarras valley and later around the 19th century, was reorganised. The whole of the Alpujarras belonged to the province of Granada untill 1833 when the new territorial division gave the province of Almeria control of part of the valley. Today the towns belong to the judicial municipalities of Albuñol, Orgiva and Ugíjar in Granada and those of Berja and Canjáyar in the province of Almeria. Ugíjar has been granted title of city on the first of May of 1894 by queen Maria Cristina of Hapsburg, as well as receiving the honour of illustrious city council.
Ayuntamiento / Town Council: 958 767 019 ugijar@dipgra.es
Mercado en dia 5 y 20 / Market on 5th and 20th
Cherin( 314 Habitantes Altitud: 380 m. )
Nevada ( 1.300 Habitantes Altitud: 1.082 m. ) Este municipio de la Alpujarra granadina se formó en 1.974 por la unión de las quatro poblaciones: Laroles ( 760 Habitants Altitud: 1.082 m. ), dada su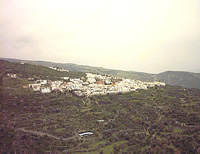 situación estratégica, presentó una gran resistencia tanto a la penetración romana como a la árabe-beréber en el siglo 10°. Tras la rebelión de los moriscos de la Alpujarra y su posterior expulsión, fue repoblada por orden de Felipe II con cristianos otros partes de Andalucía y de provincia Galicia.
El pueblo Mairena ( 250 Habitantes Altitud: 1.053 m. ) es un monumento de la arquitectura vernácula alpujarreña. Hay maravillosas vistas en la valle y el mar. Mairena tiene tambien el nombre 'El Bálcon de las Alpujarras', es el único pueblo en España desde se ve diez pueblos (Alcoléa, Cherín, Lucainéna, Darrical, Beninar, Jorairaratar, Mecina Tedel, Yégen, Válor, Néchite).
Júbar ( 50 Habitantes Altitud: 1.065 m. ) y su iglesia en la que se dice es la más antígua de Las Alpujarras (cerca el siglo 12°).
Picena ( 414 Habitantes Altitud: 850 m. )
Nevada ( 1300 Inhabitants Altitude: 1082 m. ) This municipality of Alpujarra granadina formed an union in 1974 of the following four villages: Laroles ( 760 Inhabitants Altitude: 1082 m. ) because of its strategic situation, offered great resistance to Roman influence as well as to the Arab berber invasion during the tenth century AC. After the Moorish rebellion of the Alpujarra and its expulsion, the town was repopulated with Christians of other parts of Andalusia as well as from Galicia by order of king Felipe II.
The town of Mairena ( 250 Inhabitants Altitude: 1053 m. ) is a monument to authentic alpujarreño architecture. The village has wonderful views on the valley as well as the sea. Mairena is also called 'The balcony of the valley of the Alpujarra', for it is the only village in Spain from where ten other villages are to be seen (Alcoléa, Cherín, Lucainéna, Darrical, Beninar, Jorairaratar, Mecina Tedel, Yégen, Válor, Néchite).
Júbar( 50 Inhabitants Altitude: 1065 m. ) has a church which is suposedly the oldest in the Alpujarras (about the 12th century).
The village Picena ( 414 Inhabitants Altitude: 850 m. ) which is situated downhill from Laroles.
Ayuntamiento / Town Council Nevada ( in Laroles ): 958 760 007 nevada@dipgra.es
Mercado en dia10 y25 / Market on 10th and 25th