Vias de acceso a la Alpujarra granadina: La carretera Granada a Motril ( N323 ), desde Granada pasando por Padul, Dúrcal y Lecrín y desvío en Venta de Las Angustias hacia Lanjarón. Desde Motril, desvío en Vélez de Benaudalla hacia Orgiva. Desde la Costa del Sol pasando por Almuñecar,

Salobreña, Castell de Ferro y desvío en La Rábita hacia Albuñol. Desde Granada a Guadix, desvío de La Calahorra y luego de atravesar el Puerto de La Ragua, se llega a Laroles. Puerto de la Ragua cumbre de puerto a 2.042 metros de altitud. Magnificas vistas a ambos lados de la Sierra Nevada. Sendero al pico Chullo a 2.612 metros altitud. Facildades de esqui existen. Para mas información, por favor usar el enlace Puerto de La Ragua a tapa este página.
Roads of access to the Alpujarra granadina valley: Highway Granada-Motril(N.323), from Granada passing Padul, Dúrcal and Lecrín, then bypass Venta de Las Angustias towards the direction of Lanjarón. From Motril you pass Vélez de Benaudalla onto Orgiva. From the direction of the Costa del Sol you pass Almuñecar, Salobreña and Castell de Ferro, then bypass Rábita towards Albuñol. From Granada to Guadix via La Calahora and crossing the pass of Puerto de La Ragua you'll arrive at Laroles. The Puerto de la Ragua summit reaches to 2042 m. altitude. There are magnificent views to both sides of the Sierra Nevada. A trekking path to the peak Chullo reaches to an height of 2612 m. There are facilities for skiing at the top of this pass. For more details, please use the Puerto de la Ragua link at the top of this page.
Acomodador La Alpujarra granadina dispone de una oferta en materia de alojamiento más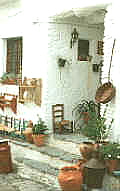 completa y diversificada. Hoteles, hostales, apartamentos, huéspedes o casas rurales, todo ello localizado en privilegiados enclaves, ofrecen comodidad y confort a los visitantes. Tanto en el corazón de los pueblos como en fantásticos parajes naturalezas donde las facilidades amplio de camping.
Accommodation in the Alpujarra granadina has a range of complete and diversified lodgings to offer. Hotels, hostels, apartments, pensions or bed and breakfast, you will find them all located in privileged locations, offering pleasant comfort to visitors. As well as in the heart of the villages but also in fantastic sites in nature with ample camping facilities.
Gastronomía existen en una agricultura rica y variada y una tradición culinaria sabiamente conservada, es la base de la peculiar cocina. Abundan guisos, ollas y pucheros. Cabe destacar que la cocina alpujarreña ha conservado los tradicionales elementos de la arabigo-andaluza, con lo cual se entrecruzan dos vertientes gastronómicas autóctonas: la morisca y la cristiana. El rey de los platos típicos es el mundialmente jamón de Trevélez, curado al aire de la sierra. Pero entre los embutidos alpujarreños destacan también los chorizos, morcillas, longanizas, etc.
Gastronomy found in the valley with a various and rich agriculture and a culinary tradition wisely conserved, is the base of the peculiar cuisine. Casseroles abound and pucheros or stews. It is reasonable to emphasize that the kitchen Alpujarreña has conserved the traditional cooking elements of the Arabigo-Andalusian, a harmonious mixiture of two indigenous gastronomic origins, the Moorish and Christian kooking. Very typical is the wellknown mountain air cured ham of Trevélez. But also the alpujarreño sausages with pork, salami, black pudding, the longanizas or blood sausages, chorizos are famous.
El queso de cabra y la repostería gozan también de bastante fama. Entre los platos más populares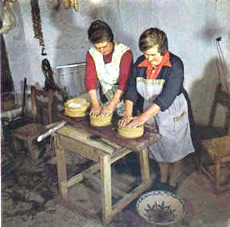 mencionaremos las migas camperas, perdiz en escabeche, puchero a la gitanilla, cordero, choto a lo cortijero, perdiz en escabeche, sopa alpujarreña con almendras picadas, trucha a la alpujarreña, choto a lo cortijero, lomo en orza, tortillas sacromonte, habas con jamón, papas a lo pobre, gachas pimentonas, y el plato alpujarreño con jamón.
Goats cheese and pastry-making also enjoy fame. The most popular plates are the country bread crumb plate, partridge in pickled sauce, gypsy stew, lamb dish, calf dish, Alpujarreña soup with snippered almonds, Alpujarreña mountain river trout, omelette of Sacromonte, beans and ham dish, and the Alpujarreño dish with ham, peppers and potatoes.
Toda esta variedad gastronómica se puede regar con los buenos caldos alpujarreños: vinos de la costa, de La Contraviesa, de Albuñol y de Albondón. De elaboración familiar en muchos casos, o de bodegas y cooperativas que distribuyen una producción selecta por toda Andalucía, estos caldos proceden de uvas de "Jaén blanco", "perruno", garnacha", "montúa", Pedro Ximenez", "tempranillo" y "vigriega". Desde los soleras de alta graduación hasta los jóvenes y afrutados, los vinos tintos, blancos y rosados de Las Alpujarras son de inmejorable calidad, equilibrados y ligeros.
These variety of dishes may be accompanied by a good collection of Alpujarreño wines of the coast or the Contraviesa from the villages Albuñol or Albondón. These wines are from centuries long family elaboration in many cases. The grapes used are white Jaén grape, the perruno, garnacha, montúa, Pedro Ximenez, tempranillo or vigriega grape variety. These vintage wines are of high standard, either when young or matured. Red, white or pink. The Alpujarras wines prove to be of superb stable and agile quality.
En el tema de postres, destacan los roscos de Pampaneira, dulces moriscos, huesos de santo, soplillos, buñuelos con chocolates, borrachillos y torta de lata. La miel de Las Alpujarras es igual de famosa, así como confituras.
As to the subject of desserts one must define the ring-shaped pastries or roscos of Pampaneira, the sweet Moriscoes, the bones of the saint, soplillos, chocolate buns, borrachillos and a diversity of cakes. The honey, as well as jams, are equally renown in the Alpujarras .
La riquísima artesanía de Las Alpujarras es fruto de su legado cultural y tradicional. Destacan la cerámica (cántaros, ollas, vasijas, etc.), la confección de jarapas y tapices, la cestería, el bordado, el esparto, etc. Los tejidos alpujarreños son los que más fama tienen desde los tiempos de la dominación árabe, lo que fue posible debido a la gran abundancia de ovejas, gusanos de seda y lino. Aún existen telares musulmanes en los que se trabaja manualmente, en pueblos como Mecina-Bombaron, Ugíjar, Valor, Pampaneira, Bubión y Capileira.
The richness of handicraft of the Alpujarras is the fruition of its traditional and cultural leagacy: there is ceramics (pitchers, pots, vessels, etc.), the making of rugs and tapestries, basket making, embroidery, esparto grass wickerwork, etc. Handwoven Alpujarreño knittingware has acquired even more fame than during the times of Arabian domination, when there was plentyfulness of sheep, silk and linen. To this day Moslem influence show up in handicraft, in towns like Mecina-Bombaron, Ugíjar, Valor, Pampaneira, Bubión and Capileira.
Festivales y musicales tradicional de Las Alpujarras celebra infinidad de fiestas que proporcionan un verdadero tesoro costumbrista, como la Fiesta de Moros y Cristianos o el Entierro de la Zorra. Su riqueza folclórica se destacan los villancicos mozárabes; romances; bailes de candil; bailes y cantares de ánimas con claras reminiscencias moriscas; temporeras y cantos muleros o el Trovo, la composición poético-musical más emblemática de Las Alpujarras y la cual consiste en improvisar las canciones sin perder el compás y contestando las estrofas de otros cantantes.
Festive and musical traditions of the Alpujarras celebrate numerous festivals providing a true folklore treasure; like the festival of the Moors and Christians or the Burial of the Whore. Its wealth of folk music is emphasized by Mozárabe style carol singing; ballads; dances by candlelight; dances and songs, with clear Arabic reminiscences, of the souls; seasonal songs of 'muleros' or the Trovo, is a musical compositional, probably most emblematic of the Alpujarras, which consists of improvising songs without losing bearings of direction by answering the stanzas of other singers.
Deportes en Las Alpujarras es uno de los regiónes de la provincia Granada que ofrece una mayor gama de actividades deportivas, entre las que pueden mencionarse: el senderismo, excursionismo, paseos a caballo, bicicleta de montaña, así como deportes de riesgo como la escalada o deporte de esqui.
Sporting in the Alpujarras is one of the areas within the province of Granada that offers a wider range of sportive activities, among those to mention: trekking, sightseeing, horse back riding, mountain biking, as well as mountain climbing or skiing.