Atraídos por la riqueza minera de Sierra Nevada (explotación de hierro, cobre, plata, oro y plomo) y gracias a su proximidad al mar, entraron a ella los fenicios, cartagineses y griegos, estableciendo estos últimos junto a los romanos algunos poblados. Pero fue con la llegada de los árabes cuando se habitó la sierra, llegando a su máximo esplendor en los siglos 14° y 15°, donde desarrollaron un intrincado sistema de canalizaciones y acequias y un extenso comercio de seda y de esencias aromáticas que exportaban.
Attracted by the mining riches of the Sierra Nevada (iron, copper, silver, gold and lead) and the proximity to the sea, Phoenicians, Cartagineses Greek and the Romans populated the region. With the arrival of the Arabs the Alpujarras became more inhabited, reaching its maximum splendor in the 14th and 15th centuries. Intricate systems of canalizationes and ditches for a more sophisticated way of farming were developed and extensive commerce of silk and of aromatic essences were being exported.
Tras la conquista de la ciudad de Granada, en 1.492 por los Reyes Católicos, se dejó la zona alpujarreña para que la habitasen los musulmanes, que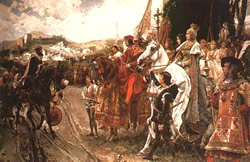 aguantaban mientras se bautizó a su gente y se transformaban las mezquitas en iglesias, hasta la sublevación en 1.568 donde se proclamó a Don Fernando de Válor como rey Abén Humeya. Mas tarde, como habría ocurrido anteriormente en el Marquesado, fue repoblada por familias cristianas del norte, que traían modelos de cultivo distintos predominando el cereal.
After the conquest of the city of Granada, in 1492 by the Catholic King Ferdinand and the Queen Isabella, the Moslems had to conform themselves to Christian norms and mosques were transformed to churches. After the uprising in 1568 Sir Fernando from Válor or Abén Humeya became political leader. Later in time Christian families from the north of Spain settled in the valley and brought different models of cultivation like cereal.
Actualmente se conservan sus tradiciones, su paisaje rural y su arquitectura: casas con muros de piedra y techos planos cubiertos de launa, esa tierra arcillosa bastante impermeable.
To this day its rural landscape and its architectural traditions in the Alpujarras are conserved. The walls and ceilings made of natural stone. The flat roof covered with launa, a gray bluish clay being quite waterproof.